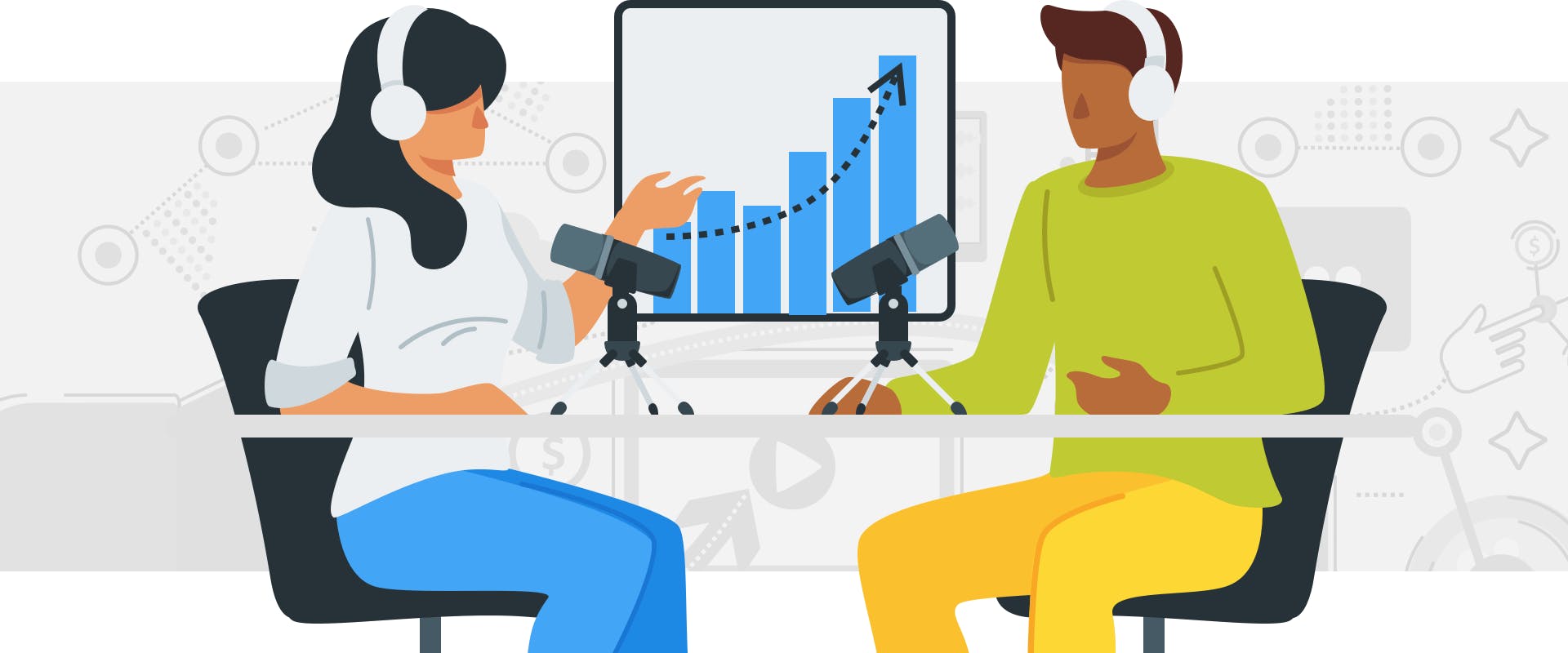 Branded Podcasts: Why You Should Consider Launching One For Your Business
Podcasting has exploded in popularity in recent years, and while some may consider this form of expression as nothing more than an audio-based forum for the opinionated, the truth is that this medium has opened a breadth of content possibilities, not just for individuals but also for businesses.
As with the advent of any new form of media, podcasts embody a novel method of capturing the attention of and communicating with potential customers. However, many companies remain unconvinced that podcasting represents an effective or necessary outlet for their marketing efforts.
According to a recent study from the BBC, podcasting metrics are favorable across the board, resulting in an 89% increase in brand awareness, 57% in brand consideration, 24% in brand favorability, and 14% in purchasing intent. The study focused particularly on individuals who self-identified as "ad-avoiders", signifying that podcasts are especially advantageous when drawing in this often elusive segment of the market.
Overall, engagement, memory encoding, and emotional intensity surpassed traditional media benchmarks by 22%, with listeners significantly more likely to remember brands mentioned in a podcast compared to viewers watching a televised advertisement. In contrast, brand mentions on radio programs actually scored 5% lower than other forms of content marketing, firmly defying the notion that podcasting and radio broadcasting are two sides of the same coin. 
It usually takes multiple touch points before companies are able to convert a prospect into an actual customer. In practice, that means that the majority of people need to hear something up to 25–30 times before taking action and engaging with a service or product. A branded podcast series provides the opportunity for this degree of exposure in a more understated fashion—without resorting to besieging consumers with advertisements, which can often have an inverse effect. Podcasting can also help to increase the authoritative presence of the business and boost overall brand recall and awareness. 
As a brand, you are most likely already uniquely situated in the market and an expert at something. Indeed, you probably have a story—whether you know it or not—which covers the history of your enterprise from its humble origins to its current position, and which incorporates its core mission, key objectives, and any planned innovations for the future. However, the challenge lies in ensuring that consumers, employees, and potential customers are as equally invested in this story as you are. To make our case, here are five reasons why podcasting is an important ingredient in the future of marketing.
1. The podcast industry is booming
With over 900,000 active podcasts and 4,000 new shows appearing every week, podcasting has transitioned into a core component of the audio market. It's become one of the best ways to reach a global audience, create an intimate connection with listeners, and provide valuable on-demand content. In tandem with the growth in shows, the number of listeners has steadily increased as well. In South Korea, the leading country globally in terms of podcast popularity, nearly two-thirds of the population listen to podcasts. While North America isn't quite there yet, we're not far behind. Based on findings published by Edison Research, 62 million Americans listen to podcasts each week, a phenomenal increase of over 200% from a mere 7 million in 2013.
2. Podcasts help to build relationships with customers
Branded podcasts are an influential tool for building awareness and talking directly to potential customers in an organic way that informs, speaks to their interests, but doesn't alienate or overwhelm them by coming across as overly commercialised. Moreover, brands appear much more approachable when they have an actual voice, with podcasts creating a personalized experience conferring authenticity and intimacy, qualities more important than ever to jaded consumers. While podcasting is not the broadest reach tactic in terms of marketing, this medium enables companies to reach new audiences, further solidify their connection with existing customers and build up a strong sense of brand loyalty. Finally, compared to the tenuous connection formed by traditional one-way marketing strategies, podcasts create a much deeper and more intimate bond with their audiences over time by allowing a two-way discourse to develop between content producers and listeners. 
3. Podcasts are an incredibly effective marketing tool
Compared to traditional marketing avenues, podcasting holds enormous potential for conversion and engagement. Recent statistics from Edison Research show that 93% of people who start a podcast listen to most or all of the episode; in contrast, business-related videos of 30 minutes or longer have been found to culminate in a completion rate of only 14%.
In an internal survey of 300,000 listeners, Midroll found that 63% had bought something advertised by a podcast host, 71% had visited the podcast sponsor's website, and 62% had considered buying the product or service being advertised. While brands often focus on video as a form of engagement, podcast episodes are just as convenient and accessible via online streaming and, because they tend to include fewer advertisements, much less in the way of direct competition. Research also shows that podcasting is popular even during tasks when consumers are not typically considered receptive to advertising, with up to 94% of consumers tuning in and remaining actively engaged with podcast episodes even while working, driving, walking the dog, running errands, doing household chores, or exercising. 
4. Podcasts allow brands to stay both topical and top-of-mind
Launching and maintaining a podcast can allow companies to position themselves as thought leaders within a certain industry or space, especially if they focus on creating unique and compelling content. By aligning themselves with a specific narrative, brands can control the way they are perceived and help consumers connect with their products and services. Moreover, podcasts as a medium are particularly geared towards educated millennial professionals—a sizable demographic which will account for 75% of the workforce by 2025. Listeners also develop subconscious associations based on key terms heard during shows. In the BBC study, for example, the word "innovative" was mentioned 12 times during an episode. Subsequently, study participants were more likely to refer to the podcast's sponsor as "innovative," thereby demonstrating the subliminal impact of this type of messaging.
5. Podcasting is very cost-effective
Compared to other forms of advertising, a branded podcast represents a relatively inexpensive method of customer acquisition. As a form of digital content, expenses associated with printing are eliminated. Moreover, while it is certainly possible to spend a great deal on premium recording, editing and production equipment, companies can bypass these costs by hiring freelancers for specific services on platforms such as Quill who can help them to create a high-quality podcast for a fraction of the cost of traditional advertising or PR strategies. As a brand, you can calculate your ROI by using listening time as an engagement metric to measure how the content impacts your listeners and, based on this, determine the cost per minute of human attention. Arguably, a podcast show is a much more sustainable strategy over the long term compared to traditional media, yet allows for a great deal more exposure compared to a <1-minute television advertisement. 
Overall, podcasting is a highly recommended method of brand-driven storytelling which enables businesses to boost traffic, spread their message and connect with an entirely new segment of customers that they might not otherwise be able to reach. At the very minimum, analysis of podcasting numbers and statistics clearly demonstrate that this creative medium is here to stay, so it's important that companies stay relevant and abreast of current trends in content consumption. 
Fatima Zaidi
Fatima Zaidi is the CEO and Founder of Quill Inc. a full-service podcasting platform and production agency that supports brands in launching their podcasts. She is also the owner of the Listen In Conference held in Los Angeles that supports brands moving into podcasting. Over the past few years, she has won two Top 30 under 30 awards, the Young Professional of the Year by Notable Life, Veuve Clicquot's Bold Future Award, and one of Flare Magazine's Top 100 Women.