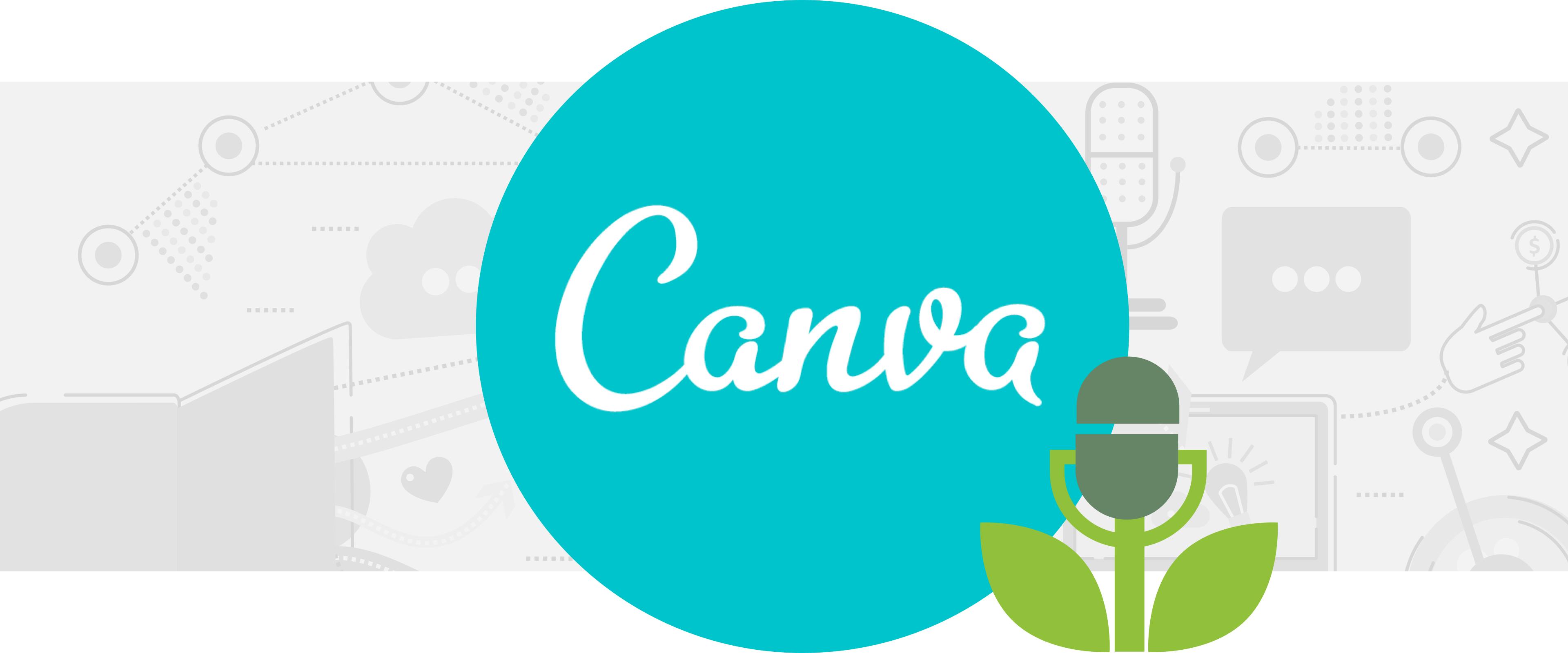 Buzzsprout's Canva Integration
While some podcasters love the process of creating podcast artwork, others find it challenging to work with graphics and develop a visual concept that accurately represents their content. 
Canva is a free graphic design tool that helps simplify creating digital artwork with an intuitive workspace that offers thousands of pre-made templates, stock photos, fonts, and customizable logos.
Buzzsprout aims to simplify all aspects of podcasting, so we created the Canva Artwork Helper so all Buzzsprout account holders can use the design platform without ever leaving the dashboard.
Here's a quick breakdown of how to use the integration to create and update your podcast's artwork.
How to Use the Canva Artwork Helper
Log in to your Buzzsprout account and go to the Podcast Settings tab. Scroll down to the podcast artwork section and click Design Artwork with Canva.
Select a template to work from as the foundation of your artwork and click on the individual elements to customize it how you like.
You can adjust the size, change the color, add your own shapes and designs, or remove a selection altogether. You can also add text, upload images, and organize your projects using the Folders tool.
Once you finish editing, select Send to Buzzsprout on the top right corner of the screen to upload the 3000 x 3000 .jpg file straight to your dashboard. You won't have to resize the image or worry about the resolution; all the images automatically meet Apple Podcasts' size and resolution requirements.
You'll be able to see a preview of your artwork before you publish the changes and can click Edit Canva Design to make more edits to the image. None of your changes are public until you select Save Podcast Info in your dashboard.
If you like how your image looks in the preview box, click Save Podcast Info to accept the changes, and you'll see the final image generate in the top left-hand corner of the screen next to your podcast's title.
Designs made through our integration aren't available in your regular Canva account; you'll need to sign in to Canva via Buzzsprout for access to artwork created using the integration.
However, if you create a design within your personal Canva account, you can access it through the Canva button under the All Your Designs tab.
We hope this new integration helps streamline the process of creating and enhancing your podcast's artwork! Feel free to reach out to support@buzzsprout.com with any questions.