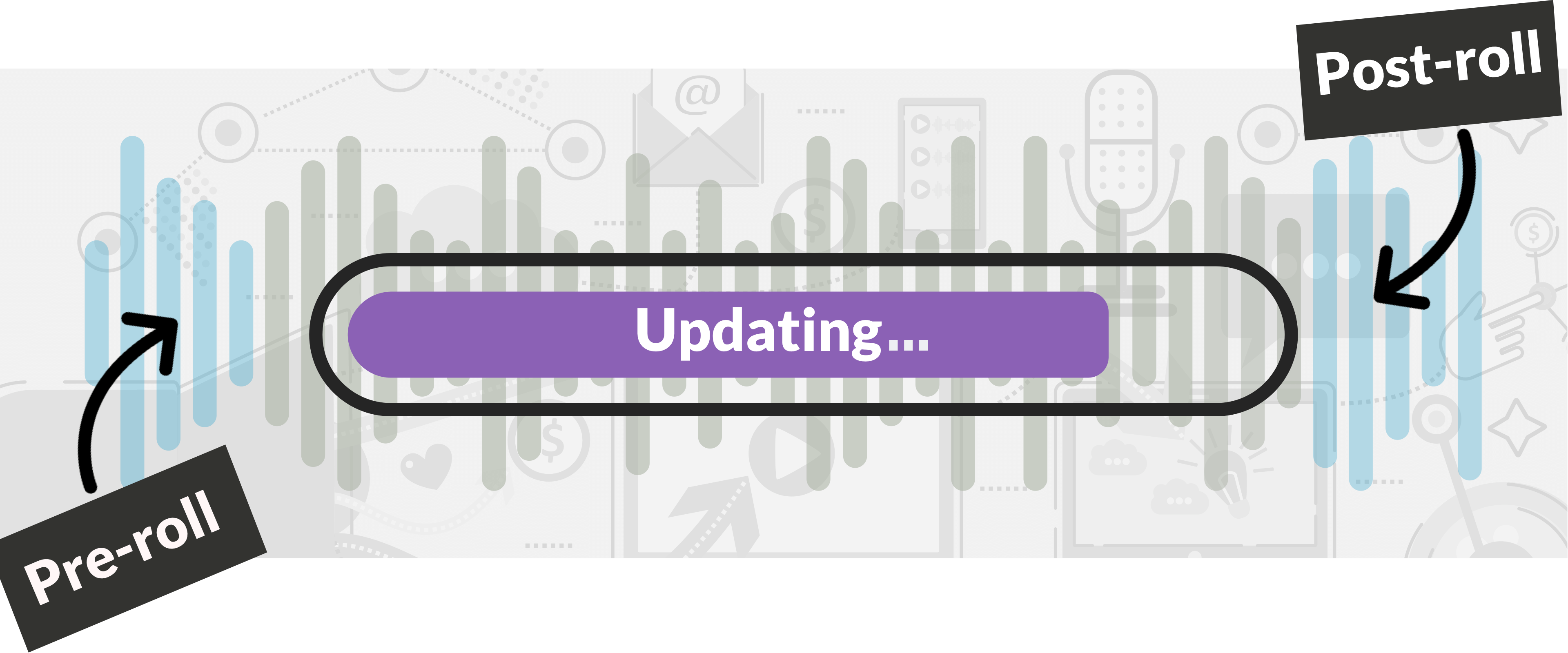 Announcing Dynamic Content for All Buzzsprout Accounts
Creating evergreen podcast episodes is a critical best practice that helps extend the life of your content long after you hit Publish.
But when listeners play an old episode, they can be met with outdated information, missing out on current sponsor ads, updates, and announcements. 
These static episodes in your back catalog can create a gap between you and your audience, resulting in listener confusion and a lack of engagement.
There are many reasons why evergreen content is crucial to podcasting success, which is why we're excited to announce our Dynamic Content tool that gives you more control over your episodes!
What is Dynamic Content?
Buzzsprout's Dynamic Content tool (DC) lets podcasters add and remove short pre-roll (intros) and post-roll (outros) to — or from — their content. Users can add updated content retroactively applying changes to all existing content.
Let's say you have an online course to promote in your pre-roll but don't want to manually edit and re-publish individual episodes.
Using Dynamic Content, you can apply the pre-roll message to your whole catalog straight from your dashboard, saving time and giving you more flexibility in how you manage your podcast episodes.
This tool is similar to Dynamic Ad Insertion (DAI) with two significant differences.
While DAI swaps ads or sponsorships in episodes by targeting them at specific people or groups, we created our tool without these features letting podcasters stay in charge of their content without sacrificing the privacy of listeners.
We worked as effectively as possible to efficiently create this high-bandwidth feature without raising prices. Ultimately, we were able to create a tool that's both valuable and available to all Buzzsprout users regardless of plan.
Benefits & advantages of the tool
One of the most powerful benefits of using Dynamic Content is the ability to make non-destructive changes to all your episodes simultaneously.
Each change you make replaces the previous one, saving significant time and creating more space for focussing on your content.
The tool also helps keep your content evergreen, ensuring all listeners get timely information leading to heightened listener engagement.
And if you're interested in monetizing your podcast, DC offers podcasters a convenient way to sell and price sponsor messages or ads.
Specific ways to use the feature:
Thank a sponsor
Announce an upcoming event (live or virtual)
Send a holiday greeting
Thank your supporters at the end of your episode (patrons)
Promote a giveaway
Let people know about your FB Group, Instagram Page, etc.
Cross-promote other podcasts
Uploading Dynamic Content within the Buzzsprout dashboard
To use the feature, log in to your account and select the Episodes tab > Dynamic Content and follow these three steps.
1. Upload new pre and post-roll files
Here you can upload pre/post-roll files with a maximum length of five minutes each and preview it before continuing.
Note: If you have Magic Mastering enabled, the corrections will automatically apply to your pre and post-roll files, as well.
2. Apply changes to episodes
Remember, the tool will apply these changes to all of your past and future episodes until you remove or replace them with another file. So make sure you're confident before clicking the modify button!
3. Confirm DYN icon after changes process
Once the clip fully processes, you should see a DYN icon next to episodes.
And that's it! Please allow up to 24 hours for your changes to appear.
A look to the future...
We hope this gives you a feel for the tool and an understanding of how it could benefit your own podcast. In 2021, we plan to build upon the feature, enhancing its value to creators.
Reach out to support@Buzzsprout.com with any questions or to let us know what you think!