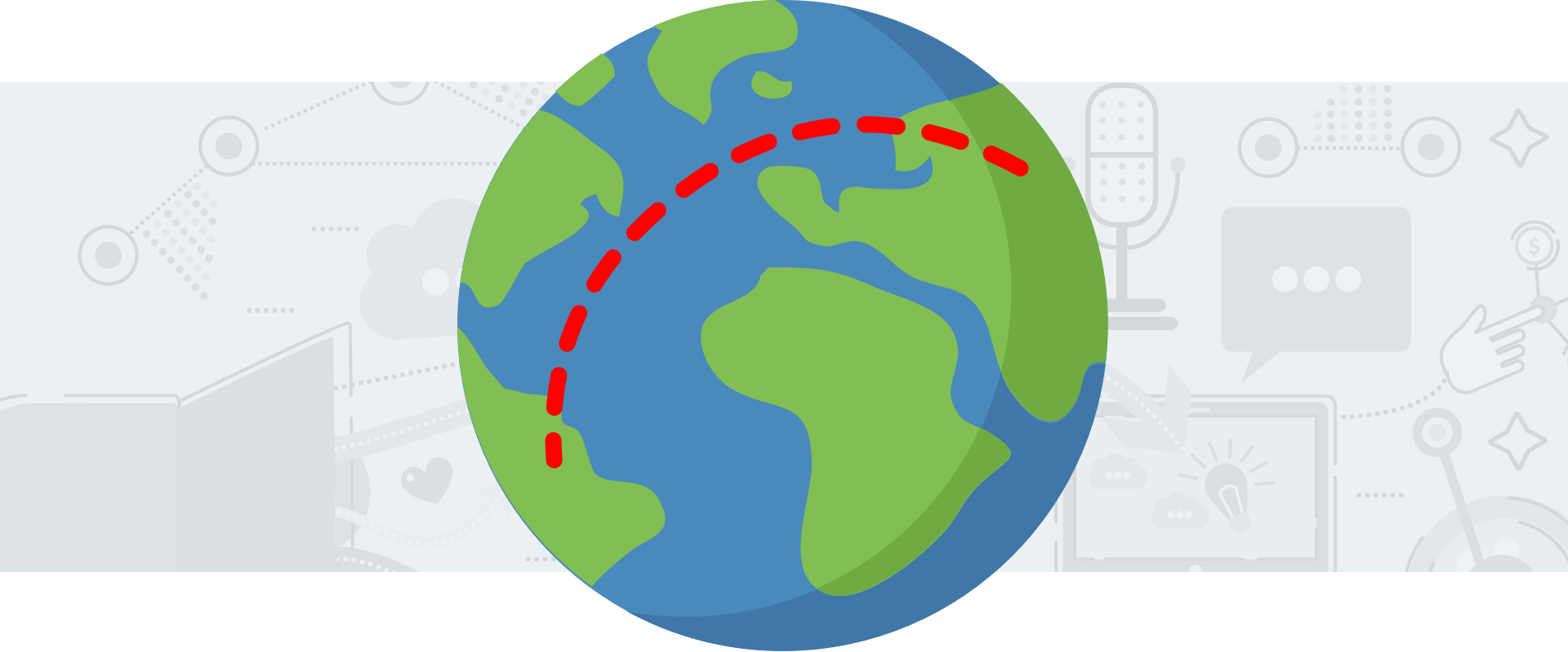 How to Record Long-Distance Podcast Interviews
If you interview guests often or have a co-host, chances are you'll need to record your show from separate locations at some point (if not all the time).
These days, social distancing makes recording remote podcast episodes an essential skill to have in your toolbox. And thankfully, new tech exists that helps make this process much easier than it's ever been before.
In this article, we'll cover what equipment you need to get started, the best remote recording software solutions, and how to get an excellent recording no matter how far away you are from your guest!
Essential equipment for remote recording
You'll need a few essential pieces of equipment to record remote audio that's not distracting for your listeners. The good news is, it shouldn't cost you much, and these podcasting staples will serve you whether you're recording remote or in-person audio.
Microphone
A quality podcast mic doesn't have to cost a fortune, and the right one goes a long way toward improving the audio of your remote interviews.
We think either the Audio Technica ATR2100x or the Samson Q2U is an excellent dynamic mic for most podcasters. 
Both options connect directly to Macs and PCs via a USB hookup and include a built-in headphone jack to monitor volume levels easily. Read more about how to choose the best podcast mic for you.
Headphones
Wearing headphones while you record your podcast lets you monitor your volume levels and hear sounds your mic is picking up. The last thing you want is to record an interview and end up with audio that isn't usable.
We recommend the Audio-Technica ATH-M20x. These entry-level studio headphones are excellent for recording and editing, will last you a long time, and shouldn't break the budget.
Pro tip: Ask your guest to wear headphones to minimize the feedback of your voice coming through their speakers. If they don't have headphones, a pair of earbuds will work; just encourage them to not rely on their computer's built-in microphone. 
Home podcasting space
A home "studio" doesn't have to cost a lot of money, and a few tweaks to your space will go a long way toward making a good impression on your listeners. 
Choose a quiet, small, carpeted room to record (closets work great if you're alone!). You can also apply DIY acoustic treatments to your space to help dampen reverb and optimize your sound quality.
Do you want video or audio only?
Podcasters have different priorities when choosing a remote recording software; many want whatever tool that will help them record the highest audio quality possible, others are willing to sacrifice sound quality for video capability, and some prefer whatever software makes it easiest for guests to hop on a call. 
Before you choose a remote recording method, think about the features that are most important to you. Every remote recording software has advantages and drawbacks and an area where it excels far above the competition. 
Take a look at the pros and cons of our top remote recording recommendations to find the software that best suits your needs! 
Best remote recording solution for:
Video & audio options
Recording video and audio of your interview lets you post the content to Youtube or make social media clips to expand your influence.
Check out these remote video and audio recording tools for the highest-quality results: 
Zoom is one of the go-to online interview platforms for podcasting, primarily because of its above-average audio quality, built-in video recording, and ease of use for remote podcast interviews. 
For most podcasters, this is the easiest and most cost-effective way to record remote video and audio. Zoom is also a well-known platform, which helps reduce the confusion for your guest. Just your guest a link to the meeting, and they can click on it to join the call. 
Zoom gives you a wide range of options for conducting the actual interview with a live video (similar to Google Hangouts). You can join a Zoom call on your phone, iPad, computer, or dial in with a landline. 
As an all-in-one platform, Zoom's main drawback is it's audio quality. While this option works fine for a lot of podcasters, the tool does compress your audio file to make the video streaming experience seamless. You'll likely notice a drop in quality compared to recording locally. Overall, we think Zoom is an strong remote recording option and one that will work for the majority of podcasters.
Pro tip: To minimize hiccups in the audio, make sure you and your guest pick a stationary place to talk for the duration of the call where the wifi signal is steady and predictable. Whether your guest joins the call from a smartphone or laptop, encourage them to ensure their device is charged and ready to go.
Pricing: You can use Zoom's Free plan if you only need to record yourself and one other person. If you need to bring in three or more people, you can upgrade to their Pro plan ($14.99/mo).
Riverside.fm is a new, all-in-one remote recording tool and the only one that lets users record separate tracks for audio and video within their browser.
Each user records their audio and video locally (to their own computer), making for studio-quality sound unaffected by changing wifi signals (similar to a double-ender, which we'll get to in a minute). Recording locally means you won't sacrifice audio quality in the process of recording your video, solving audio problems you might encounter with a tool like Zoom.
Riverside.fm lets your listeners chime in with a video call to ask questions, adding an innovative layer of interaction to remote interviews that no other recording tool offers. You can also host a live-stream podcast episode on Youtube, Twitter, or Twitch to reach more people. 
This platform is an excellent option for remote recording that could also transform the way you interact with your audience and distribute your content. 
Pricing: Riverside.fm starts at $29/month, and includes 10 hrs/mo of studio-quality audio and video.
What about Skype?
You're probably wondering why Skype didn't make our list of suggested remote interview solutions. Well, there are a few reasons.
#1. Poor Audio Quality
For a long time, recording over a Skype call was the best option. But, that was back when its only competition was recording someone on a phone call. But times have changed, and we think the solutions we suggest in this article will give you better audio quality than using Skype.

#2. Inconsistent Audio Quality
Not only is Skype's audio quality sub-par by modern standards, but it's also inconsistent. Even with a reliable internet connection, you'll notice segments of your audio that sound like you're recording in a cave.

#3. No Elegant Recording Solution
Skype recently added the ability to record your Skype sessions directly within the app, something you had to use third-party software like Call Recorder or Audio Hijack to accomplish previously. Unfortunately, Skype exports that audio as a mixed-down mp4 file, meaning every person's audio is lumped together into a single audio track.
If you want the flexibility of editing each person's audio separately, Skype's new recording solution leaves a lot to be desired.
Audio-only podcast recording software
If video isn't important to you, and you just want the best remote audio possible, take a look at these services.
SquadCast has quickly gained traction with seasoned podcasters. Its greatest strength? SquadCast records lossless audio and gives you (non recorded) video conferencing. 
Before you join the session, SquadCast shows you which microphone, camera, and headphone devices it has selected for you, so there are no surprises later on. There's nothing worse than conducting a fantastic interview to find out the guest was recording on their laptop microphone instead of their external USB microphone!
Once you join the session, you'll see each person's video (if they have it turned on), details about their time zone, the strength of their wifi connection, and where their audio levels are peaking (no more clipping surprises!).
When you start recording, SquadCast "progressively uploads" each person's lossless audio files to a cloud server, so if one person's internet connection goes down, you won't lose the recording. Then, you can download your audio files to your favorite editing software.
SquadCast's main drawback is that it's currently only available using Chrome, Firefox, Opera, Brave, and Edge internet browsers. 
There are plans to start supporting other major internet browsers, but as of now, your podcast guest will need to have access to one of these browsers before joining a SquadCast call. 
This limitation means your remote guests cannot enter your recording sessions by calling in on their phones. But, if you want to get superior audio quality, you probably don't want your guest to call from the back of an Uber, anyway.
Pricing: SquadCast recently introduced their Dabbler plan ($9/mo) with two hours of audio recordings per month. If you need more recording time, upgrade to the Creator plan ($17/mo) for five hours each pay cycle.
Alitu is an all-in-one solution for recording and editing your podcast. It allows you to record high-quality audio with up to 5-people in your browser.
Both solo segments and calls are then passed through Alitu's audio cleanup system, to make you sound great, before dropping into your library for editing and adding to episodes. 
Alitu could be great for anyone that wants the simplest possible podcast creation workflow. You can do it all inside Alitu, from recording to publishing directly to Buzzsprout.
Price: $28/month
Zencastr was among the first to introduce lossless audio quality to the online interview software ecosystem when it launched in 2016 — and it's still a favorite by many podcasters. 
The platform's intuitive dashboard makes inviting guests, recording episodes, and viewing each person's audio waveforms easy and straightforward.
Like Squadcast, Zencastr progressively uploads each person's audio file while the interview is taking place, so there's no need to send you the file afterward. 
When you finish the interview, just hit the button to stop recording and wait for Zencastr to finish uploading your audio file. (Make sure you see the pop-up that confirms your upload is complete before closing out of the window (this applies to your guests as well).
With paid plans, you can unlock features like "Automatic Postproduction," which automatically mixes and enhances each audio file based on algorithms designed to make your podcast sound pristine and professional.
Pricing: Zencastr's Free Hobbyist plan lets you record up to eight hours of audio each month with up to two guests (Update: enjoy unlimited guests and recording time on this plan during the COVID outbreak.) Upgrade to the Professional plan ($20/mo) for unlimited guests and recordings, plus 16-bit 44.1k WAV audio resolution and automatic postproduction. 
RINGR is another audio-only online interview solution (like Zencastr), which utilizes Voice-over-IP (VoIP) to record high-quality audio from each person's device. You can join the interview from a modern browser like Google Chrome or Firefox. You can dial in on your mobile device using the RINGR Mobile app available on Apple iPhones, iPads, and Android smartphones.
Pricing: RINGR's Basic plan ($7.99/mo), gives you unlimited calls with decent audio quality, but RINGR mixes each person's audio into a mono track. For the best sound quality and separate track recording, you'll need to upgrade to the Premium plan ($18.99/mo).
Cleanfeed is an internet browser application that allows you to record multiple people simultaneously. It functions similarly to RINGR in that there is no video, but unlike RINGR, Cleanfeed enables you to record each person's audio on a separate track on their most basic plan.
Pricing: If all you need is a high-quality audio recording, you can stick with Cleanfeed's Free plan indefinitely. Upgrade to the PRO plan ($22/mo) to unlock advanced features like audio repair, channel mix control, and higher bitrates.
How to record a double-ender
If you and your co-host record your podcast episode remotely or are interviewing someone with a little technical know-how, you can record a double-ender and fool your listeners into thinking you're in the same room.
Double-ender (def): A type of recording where each person records their audio locally on their computer or to an external device.
Of course, this option requires that your guest have their own recording set up, including a computer, microphone, and recording software. 
If your guest has the resources, choose from one of these two ways to record a double-ender:
#1. Hardware Solution
Run each person's audio into a mixer or a field recorder like the Zoom H6 and record directly to an SD card. Once the interview is over, every person uploads their audio to the host using Dropbox or Google Drive for the final episode.
#2. Software Solution
If you don't have an external recording device, you can achieve the same "in-studio" effect by recording directly to your computer. You can use programs like Audacity (Mac and PC) to record your audio in the background while you conduct the online interview. Once the meeting is over, every person exports their audio and uploads the recording to the podcast host for editing.
Pro tip: Combine Zoom's video conferencing feature with a double-ender for the best of remote video and audio.
[Download remote recording step-by-step guide]
Which remote recording tool should you choose?
There is no perfect remote recording solution, only the right fit for what is important to you. If you want optimal audio, try recording a double-ender using hardware or software options.
If a double-ender isn't feasible, go with SquadCast or Zencastr for the next best sound quality. If video and ease-of-use is a top priority, Zoom is probably your best bet.
Remember, your listeners care more about the content in your podcast than how professional your audio sounds. Do the best you can, but don't let remote recording hold you back from creating!