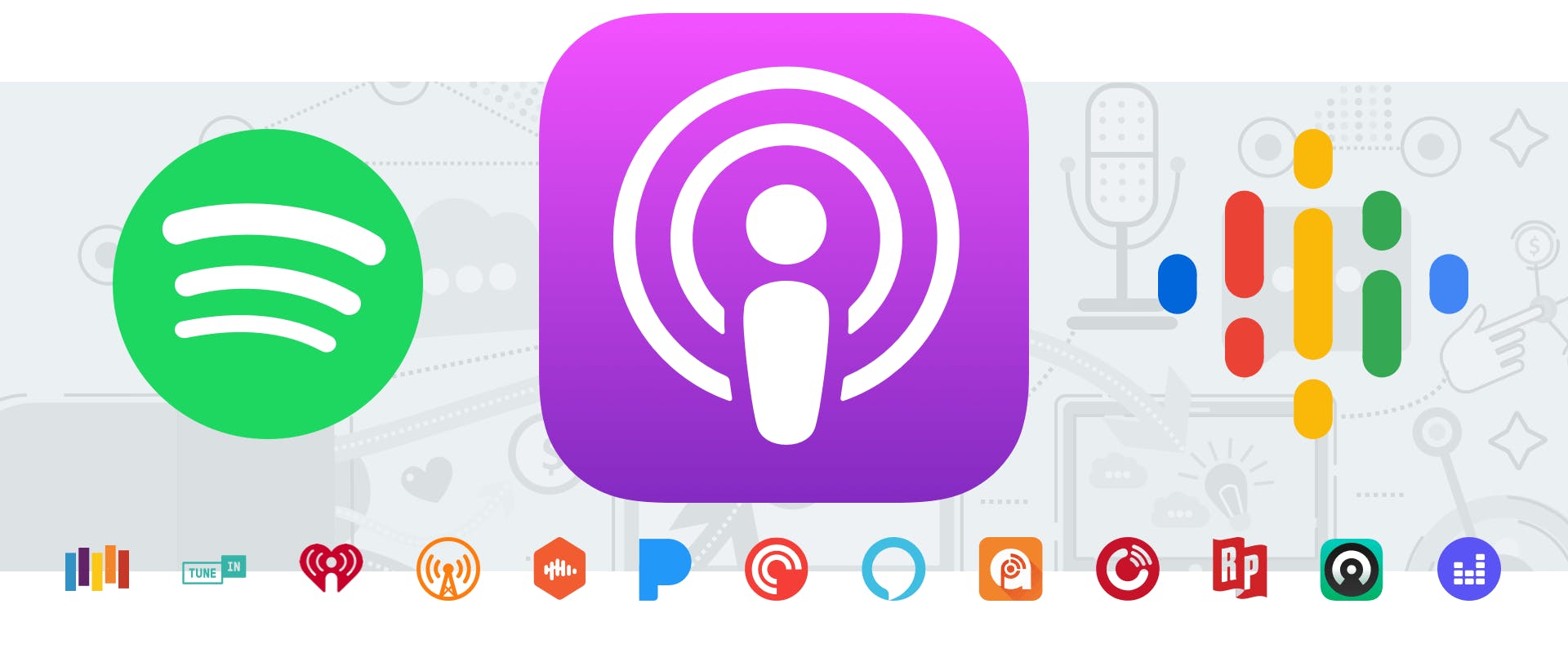 The Definitive Podcast Directory List (2021)
Directories like Apple Podcasts and Spotify collect podcasts via RSS feeds and sort them by category where people can find, rate, review, stream, and subscribe to your content.
Listing your podcast in all the top directories is crucial for visibility and is one of the most effective marketing strategies to get new listeners.  
According to a recent Buzzsprout poll, most podcast listeners use directories as their primary source for finding new content, so if you don't list your show in at least the most widely used platforms, people are unlikely to find it.
In this guide, we break down the top ten podcast directories to get listed in right away and the niche directories that can further expand your show's reach!
Top 10 major podcast directories
Most of your listeners will find your podcast in one of these nine major outlets, so we suggest you submit your show to each one as soon as you have content ready for the public!
1. Apple Podcasts (formerly iTunes)
Apple Podcast is the oldest, largest, and most important podcast directory because it is widely used and feeds your podcast to many other platforms. Once you're ready to launch, your next job is to get listed in Apple Podcasts.
According to Buzzsprout's Platform Stats, 29.3% of podcast listeners use Apple Podcasts to stream their favorite shows—with the majority using the Podcast app on their iPhones to stream content.
Apple Podcasts also lets users leave reviews, which helps you rank better and gives you valuable listener feedback.
Once you list your show in Apple, it will also appear in these apps & directories:
2. Spotify
Spotify is one of the most popular podcast directories and is currently the top podcast app in number of downloads.
Spotify is primarily a music streaming app, so if you list your podcast with them, your show could reach an audience that wouldn't find you otherwise. You'll also have access to the app's new stats feature to track your show's performance.
The directory recently made some changes regarding ad placement and now uses information about its users to insert ads into their content (Streaming Ad Insertion), so we suggest doing some research to make sure it's the right fit. 
Spotify is available for both iOS and Android, so listeners can use it no matter what smartphone they use.
3. Google Podcasts
Although fewer people use Google Podcasts than Apple or Spotify, listing your podcast in this directory is essential to reach your Android audience. And the platform will likely become more competitive in the future since phasing out Google Play Music and transitioning to Google Podcasts.
In 2020, Google released Google Podcasts Manager as a way for podcasters who are listed on the platform to track their show and get listener data. After you get listed on the platform, you can claim your podcast to see how many people are listening, how long they listen, etc.
Google's podcast directory doesn't have a standard submission process and instead uses search technology to crawl the web and find shows to list in their catalog. Make sure your podcast follows Google's guidelines so it can be picked up and listed on the directory.
If you host your podcast on Buzzsprout, your podcast website is automatically compatible with Google Podcasts.
4. The Podcast Index
With Apple making more moves in the podcasting arena, it's important to have an open and accessible directory available to all podcasters.
Podfather Adam Curry and developer Dave Jones created The Podcast Index as an independent, open-source directory without advertising or corporate interests. This categorized index has over 3.7 million podcasts and all apps can use the index to find new shows.
The web-based podcast index checks existing directories and allows for direct submission through podcast hosts like Buzzsprout. The directory promises to always stay free and available for any use.
5. TuneIn Radio
TuneIn Radio is the default podcast player for Amazon's Alexa devices and broadcasts internet radio and podcasts to a community of over 75 million active users combined. 
Overall, TuneIn accounts for a small percentage of total podcast listens, but their partnerships make your show available in a few additional spots (like Tesla car). TuneIn's podcasting app is available on Android, iOS, Google Home, and compatible with Android Auto and Apple CarPlay.
6. Stitcher
Stitcher was one of the first-ever podcasting apps for Android users. It's now one of the largest third-party directories globally, broadcasting music, podcasts, and internet radio.
Stitcher also offers stats on your show's performance with insights that can help you create better content. The platform has millions of users and is available on iOS, Android, PC, smart speakers and integrated into over 50 car models.
7. Pandora
Pandora's recommendation engines are still one of the best ways to discover new music—and they've recently made them even more powerful. As of 2020, Pandora had 58 million users and logged millions of hours of streaming.
Pandora recently updated its submission process to accept many more podcasts, and we're excited to see how they leverage their rating systems to help listeners discover new shows.
8. iHeartRadio
iHeartRadio is one of the largest audio streaming services and podcast directories on the web. The platform functions similarly to Pandora, and streams music, radio, and podcast episodes on mobile devices, tablets, cars, TV, and gaming consoles.
The platform recently moved to a manual submission process that allows any podcaster to get their show into iHeartRadio.
9. Amazon Music & Audible
In 2020, Amazon added podcasts to Amazon Music and Audible, platforms that collectively reach over 55 million listeners. As a bonus, having your podcast listed in Audible means your content is in front of people who are used to listening to long-form digital audio but may not know much about podcasts.
Users can also listen hands-free using Alexa for iOS and Android and on all Echo devices.
Get listed in Amazon Music & Audible
10. Listen Notes
Listen Notes is the best podcast search engine out there and functions like the Google of podcasts. Users can search the directory for specific topics, and the results often showcase independent podcasters who wouldn't appear in an Apple Podcast search.
Most podcasters with a public RSS feed and available podcast data are automatically listed in Listen Notes and just need to claim their show.
If you don't see your show listed, you can submit your podcast via their website or through your Buzzsprout dashboard.
Popular niche podcast directories 
Even though these directories aren't as popular as the apps listed above, they still attract millions of avid podcast fans. Listing your content on these platforms increases the chances of the right listeners finding your show.
We suggest listing your podcast in these apps after your show is already in most of the above major directories.
Podcast Addict
Podcast Addict isn't a major directory like Apple Podcasts, but it's the most popular podcast app among Android users with over ten million downloads.
Search your show's title to see if you've already listed it in their database. If you don't see your podcast, you can submit it to the directory, and your show will appear in results within 24 hours. 
Pocket Casts
Pocket Cast's podcasting app (owned by NPR) features powerful filters to help guide listeners through a sea of content to find the shows they'll love.
Pocket Casts is now free and available across iOS, Android, Alexa, Car Play, Apple Watch, Amazon Echo, CarPlay, Android Auto, Sonos, Apple Watch, Google Home, HomePod, and Chromecast.
RadioPublic
RadioPublic is a widely used app that's been around for over 15 years. The app focuses on the success of independent creators with hand-curated playlists that showcase content and a ton of helpful features for podcasters. 
Users can listen on their desktop or mobile device (iOS & Android).
Verify your podcast on RadioPublic
Castbox
Castbox podcast directory started in 2016 to simplify the process of podcast discovery. They've since released several powerful tools for finding content, including an AI-powered search engine, and have over 95 million episodes in their library. 
To get listed in Castbox, sign up for an account in their Creator Studio. Select the Claim Ownership tab and provide them with your email address and RSS link to complete the process. 
Create your Creator Studio account
Deezer
Deezer's user interface is similar to Spotify but is primarily a European app (although anyone can use it). Like Spotify, the platform started as a music streaming service but now also includes spoken-word audio.
Getting your podcast on Deezer gets your show in front of its 14 million users, and all the money generated from ads on Deezer goes directly to supporting artists and podcasters.
Player FM
Player FM is a cloud-synced podcast app that focuses on podcast discovery, niche topics, and tailored recommendations. It's an excellent resource for indie podcasters and fans of niche content who want to find new indie shows.
Alexa via AnyPod
Even if you list your podcast in Amazon or TuneIn's directory, submitting it to AnyPod gives listeners another way for Alexa users to find your content.
Since AnyPod isn't a built-in skill, you'll have to enable it by saying, "Alexa, enable AnyPod skill."
Find & publish your podcast in AnyPod
Acast
Acast is a podcast network, podcast host, and directory available on iOS and Android. As of 2021, this directory reached over 60 million monthly active users.
This directory has social features like "Nearby" that use smart technology to share podcasts with friends, which is good news for podcast creators who want listeners to have an easy way to share new episodes with friends.
Women in Podcasting 
Women in Podcasting is a directory exclusively for women creators and aims to give an equal voice to all creators in the podcasting community. This platform is one of the best podcast directories to list your content if you're a woman with a show geared toward a primarily female audience.
Women in Podcasting is not currently accepting new podcasts, but check back in a few months for updates from their team.
Submit podcast to Women in Podcasting
Learn Out Loud
Learn Out Loud's directory features educational content and is one of the largest catalogs of free, academic, and informational audio content. If you have an educational podcast (history, literature, science, self-development, religion, etc.), this directory can help you tap into the right audience for your show.
Create a Learn Out Loud account to begin the submission process.
Podbean Podcast App
The Podcast App (iOS and Android) was created by the makers of the podcast hosting platform, Podbean. The directory has over 1.8 million podcasts and over 100 million episodes. If you list your podcast The Podcast App, you can also buy ad space and promote your podcast on the platform. 
Create a free Podbean account to start the podcast submission process, or claim your show if it's already listed.
Podcast apps with built-in social features
Thankfully, more tech-savvy podcast enthusiasts have come up with innovative ways to make indie podcasts easier to find and to create more community among listeners. These apps merge the best aspects of social media into podcast apps to make content easier to find and recommend to others.
Podchaser
Podchaser is like an interactive IMDB for podcast creators. Podchaser's listeners can search for new content within the app and view the podcast's profile page for information about the content and its creators.
This podcast site is mobile-friendly but does not currently have an app.
Claim your creator profile in Podchaser
Breaker
Breaker, a.k.a. The Social Podcast App, allows for discourse around podcast episodes and offers unique social features. Users can see what friends are listening to and like content, and comment on their favorite episodes. 
And unlike Apple Podcasts and other directories that rank podcasts based on ratings, Breaker highlights the podcasts with the most likes and comments.
Podcast Gang
Podcast Gang is a web-based player that includes social media features like "hearts," playlists, and a reviews section similar to Apple Podcasts. But unlike major directories, Podcast Gang ranks shows by their reviews, downloads, subscribers, and number of likes.
To submit your show to the directory, click "Add Podcast" at the bottom of the homepage and follow the prompts to submit your RSS feed.
Listen App
Listen App is a new niche directory that is still in Beta but already backed by creators like Pat Flynn and Jordan Harbinger. 
The app aims to help independent podcasters find engaged listeners interested in niche content on a social platform built to cultivate community among you and your audience.
More ways to distribute your content 
Podcast directories aren't the only way to get your show out there. Take a look at these less traditional podcast distribution channels and learn how to leverage each one to your show's advantage.
Facebook
Posting short video clips and soundbites of your show is one of the best ways to utilize Facebook to grow your podcast. You can create visual soundbites with Buzzsprout and include a link to your podcast website within your post so viewers can subscribe to your show!
YouTube
Posting video footage of your podcast to YouTube (instead of still-frame cover art) is a great way to share your content with people who may not use a podcasting app. 
You can use the platform to interact with viewers in the comments section and publish bite-sized clips of your content to generate interest in your show.
You can read more about publishing a podcast on YouTube to decide whether it's the right move for your podcast.
SoundCloud
If you choose to use SoundCloud to distribute your content, we suggest you create a free account. After you have a Soundcloud account, you can upload your audio files and link episodes to your podcast website so users can subscribe to your show.
Next steps for growing your podcast
Getting your podcast listed in as many directories as possible is a significant part of getting your new podcast off the ground.
If you want more information on establishing your podcast, check out our How to Start a Podcast YouTube playlist for tips and tutorials! 
We're always on the lookout for new podcast directories, so feel free to reach out to us on Twitter, or the comments below, if we missed anything!