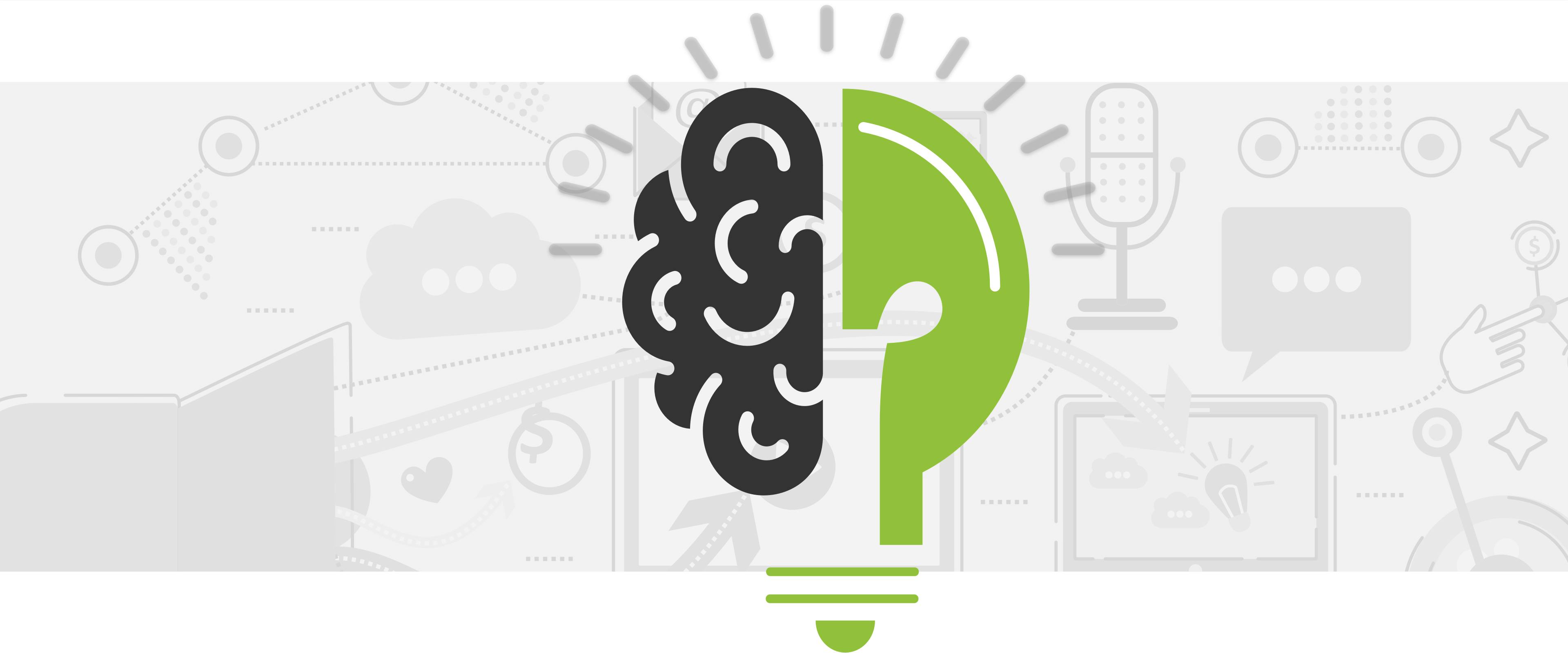 30 Untapped Podcast Ideas
As of 2021, there are over two million podcasts and millions more episodes. For perspective, there are over 600 million blogs and 31 million YouTube channels.
Even though the industry is growing every year, the podcasting space is still relatively young and unsaturated compared to other mediums, with plenty of room for creatives and business owners. 
In this article, we'll show you how to choose a podcast topic that's right for you, considering the current competition in various genres and the podcast landscape as a whole.
How to come up with a good podcast topic
Whatever podcast topic you choose needs to meet some essential criteria; after all, you'll potentially record hundreds of podcast episodes on your show's subject matter, so you want to choose wisely. Here are some things to consider.
Pick a subject you want to talk about
This suggestion might seem like a no-brainer, but it's easy to start a podcast with the hopes of making money and forget to ask yourself if you enjoy the topic enough to stick with it for the long haul. 
Genuine interest and passion are some of the best ways to increase your chances of success in podcasting. 
Most podcasters who experience podfade started their show without knowing how much effort is involved or had unrealistic expectations about earning money through the medium. 
Play to your strength 
Ideally, your podcast should be about something with which you're familiar and don't have to educate yourself on from scratch.
Researching for each episode isn't a problem if you enjoy it, but you'll likely have weeks where you're too busy to do much prep work and need to do things more off the cuff.
Basically, try to pick a topic you already know something about!
Make it niche
Appealing to a smaller audience with a niche topic might seem like hurting your chances of success. In reality, it ensures your show stands out from the crowd.
If you try to compete against full-time professional podcasters with a studio, staff, and multiple episodes per week (ex: NPR's How I Built This, popular comedy podcasts, etc.), it won't be easy.
Making your podcast niche doesn't mean you have to avoid popular genres. Just know you'll have to work harder at making your show different than the thousands of similar podcasts already out there.
Here a few ways to make a podcast topic niche:
Appeal to a specific demographic or target audience 
Speak to a subset of people with unique opinions or experiences
Focus on specific topics within your primary genre
Pro tip: Browse Apple Podcasts (formerly iTunes), Spotify, or do a quick Google search to get familiar with the podcast content in your prospective genre. Ask yourself which shows are doing well, which ones aren't, and why? How could your podcast stand out?
Choose seasonal topics carefully
Some seasonality in your podcast is okay; many shows are about topics relevant for only part of the year. 
However, doing a podcast about the Olympics that happens once every two years isn't a great choice.
But you don't have to stay away from sports-related podcasts entirely.
Plenty of avid fans sit at home itching for the season to begin and welcome all kinds of related content in the meantime. 
Just be realistic about your ability to keep the show consistent and fresh throughout the offseason (a cohost might help with this).
Summary: Whichever topic you pick, make sure it's something you're passionate about, can make unique, won't get tired of, and can monetize in the future if you want to.
30 Untapped podcast ideas 
Making your podcast niche is a pivotal part of having a show that stands out, but you don't have to be 100% original.
Instead of trying to create a podcast that's the first of its kind, pick a relatively untapped topic and do it better, adding a unique angle to the subject matter. Here are 30 untapped podcast ideas to help you brainstorm!
1. The outdoors: hiking, camping, boating, etc.
There is no shortage of outdoor enthusiasts, but this trend seems to be picking up steam with more and more people wanting to get back to nature. 
So whether it's dirt bikes, cabins, boating, rock climbing, or camping, there is probably enough of an audience to make a podcast about it.
You could review the best places to hike in a particular state or region, camping hacks, DIYs, equipment, etc.
Example: The HP Outdoors Waterfowl Podcast
2. Sailing
Sailing requires a lot of specialized knowledge and items. It also has a steep learning curve, so there's a lot to discuss! 
Here are a few ideas: sailing without experience, sailing in a specific region, best sailing equipment for cheap, or DIY sailing projects, etc.
Competition is low in this category, and it doesn't have as much seasonality as other weather-dependent activities.
Example: Covert Castaway Liveaboard Sailing
3. Welding, metalworking, or woodworking
Welding and metalworking are experiencing a comeback with the rise of minimalism, self-sufficiency, and support of smaller, locally owned businesses.
Consider focussing on framing, tips for beginners, woodworking on a budget, with little space, building out a home workshop, or getting sales, etc. 
Example: ShopNotes Podcast 
4. Animals
Whether you're a dog, cat, hamster, or snake person, you can make a podcast about pet ownership and find people just as enthusiastic as you. 
While podcasts about dogs are more competitive, there are many ways to put a unique spin on your content: you could have a show about a specific breed, or a particular skill like agility training, having a pet on a budget, or holistic pet care, etc.
As a general rule, though, the more unique you can get with it, the better. 
Example: Pawprint: Animal Rescue Community, Holistic Pet Radio
5. Crafting & DIY
The world of DIY and crafting is all the rage right now, and you can take this topic in endless directions—pottery, sewing, quilting, painting, DIY household products, to name a few.
This subject matter is rife with opportunities to create extra downloadable content, online courses, and supplemental material (sewing pattern templates, how-to guides, etc.)
Example: We've Made It
6. Musical instruments
If you play the guitar, saxophone, piano, or another instrument, you can make a podcast to discuss your knowledge and experience. 
For something a bit more specific, consider a podcast about Djing or electronic music composition.
You can also teach listeners how to make an income with music, successfully booking gigs or house shows, learning theory, sheet music, etc. 
Example: The Early American Brass Band Podcast
7. House flipping
House flipping is quickly gaining popularity as more and more young people seek out alternative revenue streams. 
Talk about your own homes that you're working on, any issues you encounter, or interview other people who are doing the same.
You can share tips and tricks for newbies, share how to spot a profitable deal, and what red flags to avoid.
Example: Flipping Houses for Rookies
8. Podcasting (tech, gear, monetization, etc.)
If you've successfully monetized your podcast, you have an excellent opportunity to launch another show, teaching other creators to do the same.
This genre allows you to easily branch out to include content on social media, digital marketing, and how to be a successful podcast host, influencer, etc.
Example: Buzzcast, Podcasting Q&A
9. Wedding & event planning
People are always getting engaged and looking for resources to help them plan their weddings. 
A podcast in this category would make it easy to sell an online course and even event-planning services alongside your content.
Be aware you will have a higher audience turnover than the average show since listeners won't find the content relevant after getting married. 
The good news? New couples will fill the space as their married friends recommend your podcast. 
Example: Bridechilla Podcast
10. 3D printing
3D printing is an up-and-coming technology, so there's a lot of news to discuss as the tech evolves and becomes more widely used. 
This niche is a great tech podcast topic for anyone interesting in new 3D printing tech breakthroughs, reviews of different printers, various techniques, future possibilities, etc. 
Example: Surgeons in 3D Printing, 3DPOD: Insight from 3D Printing Pros
11. Storm chasing
Storm chasers are passionate about tracking, witnessing, and sometimes documenting extreme weather. 
Although this topic is a bit seasonal and regional, you can discuss tech, gear, and weather systems in the off-seasons. 
You could also get specific by focussing on storm chasing in the southeast, the science behind tracking a weather system, personal stories, etc. 
Example: Tornado Trackers
12. Caving, rock climbing, rappelling
If you're an outdoor adventure junkie, you're probably also a valuable resource to others looking to start similar activities or learn more about extreme sports. 
A podcast is an excellent way to share your expertise, feature interesting stories and experiences, interview experts, and create a community at the same time.
Example: The Outdoor Biz Podcast
13. Alternative living
With the current seller's market, many people in their 20s and 30s are interested in alternative living situations to escape the rent trap.
The complexity of this topic means there are lots of problems for you to help your audience solve. 
You can make this topic more specific by focusing on a particular state or region and possibly monetizing through courses or one-on-one consultations, depending on your level of expertise.
Example: The Alternative Living Podcast
14. Urban farming
Urban farming is the process of growing food within a municipality—whether or not you have a lot of land, money, or know-how. 
If you have experience in this area, plenty of people are anxious to learn how to grow and sell produce, which crops are the most profitable, what tools to use, how to store produce, etc.
Example: The Urban Farm Podcast w/ Greg Peterson
15. Book summaries/reviews
Even though there are many book review podcasts out there, there are still tons of possibilities within this genre
You can review books within sub-genres like Greek mythology, folklore, or memoir, which aren't likely to be crowded. 
Some of our favorite podcasts feature micro-niche content like this. They are a hugely valuable resource for people who want to get a synopsis of books they can easily listen to on their commute (similar to a podcast version of Blinkist).
Example: Quick Book Reviews, Genre Junkies 
16. Paranormal phenomenon
Investigating paranormal mysteries is not hard to make interesting—believer or not! You can put a twist on the topic by coming at it from a scientific perspective or as a skeptic set out to debunk claims. 
And given that most people have a weird story or two to share, this is an excellent genre for interviewing people on their personal experiences.
Example: Skeptico
17. Entreprenuer & Soloprenenuership 
Millennials ages 18-34 listen to podcasts more than any other group, and nearly 30% of millennials have a small business or side gig. 
If you're an entrepreneur or business owner, podcasts are an excellent way to reach like-minded people and share your expertise.
Example: The Solopreneur Hour Podcast w/ Michael O'Neal
18. Local or regional news 
News is the second most popular podcast genre, so it's fairly saturated. 
But taking this topic local is a great way to zero in on an engaged listener base. Think state-wide news or even regional like the Southeast or Pacific Northwest. 
Example: The Florida Roundup
19. Storytelling/drama 
Despite the popularity of shows like Serial, scripted drama is still the least popular podcast genre.
Keep in mind narrative storytelling typically requires heavy production, but the options in this category are endless if you're for a little extra post-production.
Example: Coda Change (non-fiction storytelling in medicine), Here Comes the Break (fiction scripted drama)
20. Pros and cons
Take any issue, social, political, health-related, and make a pros and cons list about the various viewpoints surrounding it.
The website procon.org does this topic so well, and it could be an excellent resource to familiarize yourself with the format and help you get started.
21. Bite-sized facts, inspirational quotes, etc.
This one isn't technically a topic idea, but creating bite-sized episodes is one way to make your content stand out regardless of its genre. 
Only 14% of podcasts are between 10-20 minutes in duration (most fall within 20-40 minutes), so you can use this format to make your podcast more unique. 
Example: Encouragement Cafe, Daily Quote, The Next Right Thing
22. Expert interviews 
As a podcast host, you don't have to be the expert or guru of your topic.
As long as you're a good interviewer and have a genuine interest in your topic, you'll have something of value to offer your audience. 
Whether your interest lies in physics, science, psychology, or business, you can interview people on it.
23. Self-help for a specific group of people
There is no shortage of self-help podcasts, but there are many ways to get creative with this genre.
For example, the podcast Help Me Be Me markets itself as "self-help for people who hate self-help."
You can take this idea and run with it in several directions to make it all your own. You could create a self podcast for:
creatives/podcasters
psychologists
business owners
retirees, etc.
Example: Help Me Be Me
24. Advice column (Q&A podcast style)
Like the self-help category, you can take this relatively common podcast format and spin it a thousand different ways.
You can take your expertise and market yourself as a go-to source for:
people looking to start a business or podcast
event planning
self-care, etc.
You can solicit questions from your social media pages to keep each episode fresh and interactive. 
Example: Ask the Planner, Ask the Nurses
25. Podcast reviews 
Podcasting about podcasting can also take the form of reviewing other podcasts for your listeners. 
This topic is especially needed in the podcasting space because word of mouth is still one of the most effective ways people find new content.
You can review new podcasts and even interview the host of the podcasts to hear their story and why they started podcasting about their topic.
Example: Sampler
26. Education: Teach a skill you've mastered 
Podcasting in the education space can mean anything from teaching your listeners a skill or educating them about a cause for which you're passionate.
Whichever direction you go, remember to scout out the competition and find ways to set yourself apart. 
Example: Business Made Simple, Find Your Voice: How to Write When You're Not a Writer
27. Branding 
In 2021, more and more people are launching online businesses and using podcasting as one part of their marketing strategy.
You can create content around different types of branding (YouTube, personal branding, branding for professionals, podcasters, etc.).
We wouldn't call this an untapped genre necessarily, but it's rife with opportunities to make it your own.
Example: Digital Brand Building, Brand Party Podcast
28. Alternative healing modalities
Health and fitness is a popular genre in 2021 and will likely stay that way. Standing out in this category might take some imagination, but it's doable with the right approach. 
You can have something valuable to share whether you're a chiropractor, acupuncturist, physician, dentist, or just someone who researches a lot on their own and has life experience.
If you aren't a professional, make sure you have enough experience in the field that your opinion is well-researched and supported.
Example: Holistic Healing with Vasudha Rai
29. Best of
Everyone loves it when someone else does research for them, and it could make an excellent format for a podcast.
You could work loosely within a category (say psychology) and span out from there to make all kinds of top 10 lists and best of nominees for products, locations, movies, music, etc.
30. Have guests share stories and viewpoints
We recently came across a podcast that has their guests read things they wrote as kids. It's a unique and clever idea you can easily adjust to make your own.
You could have guests:
tell their favorite travel story or adventure
share what its like to be their personality type (for enneagram or Myers Briggs lovers)
explain their perspective on a given topic
Next steps
Investing the time to pick a solid topic sets your show up for maximum success. We hope this list gives you a starting point to decide what kind of topic is right for your own podcast!
Once you pick your topic, you can start thinking about other elements that go into making your show the best it can be—these guides can help!